The Padel sport is very present in Southern Europe, is also becoming increasingly popular in other countries in Europe. We offer complete solutions around the padel court for Indoor and Outdoor. Information about Padel and its courts.
The Padel sport was only invented in Mexico in the mid 60s. Out of necessity, according to the founding legend: The Mexican Don Enrique Corcuera is said to have wanted a tennis court on his property in Acapulco. But the court was too small, so he had a smaller version built. The court, however, bordered directly on a concrete wall. The obstacle was integrated into the rallies after several games, similar to squash. Corcuera decided to surround the entire court with walls – the first milestone of padel was laid.
In Europe, the sport has a strong presence mainly in Spain. Over the last 20 years padel has developed into a popular sport. In Spain, Padel is played by about 2.5 million people on about 12,000 courts and is also statistically recognised as an independent sport. The breakthrough in Europe is in full expansion – Padel facilities complement perfectly tennis clubs, tennis academies, sport and leisure centres, hotels, luxury hotels & resorts, golf clubs, condominiums, stand-alone Padel Clubs, privates.
Padel convinces with its simplicity and fun factor. The rules of the game are quickly explained and the basic techniques of the individual strokes are quickly learned without time-consuming training. The unstrung, handy racket allows especially beginners an easy entry into the sport and provides a quick sense of achievement even at a low playing level.
The glass walls make padel an interesting alternative for tennis players, especially for those athletes who cannot perform fast ball changes for health reasons. Among the target groups are: Children, teenagers, adults, seniors, as well as handicapped people who need special needs. In Spain there are already some clubs that offer wheelchair padel.
Padel as a profitable add-on to tennis
The extension of the sports offer by one or more padel courts is an attractive option not only from a sports point of view (area/player ratio of 50 m² per player). The decision for padel is a profitable investment due to the sum of economic aspects. The sources of income are the same as in tennis, including court rent, courses, tournaments, equipment sales and even sponsors.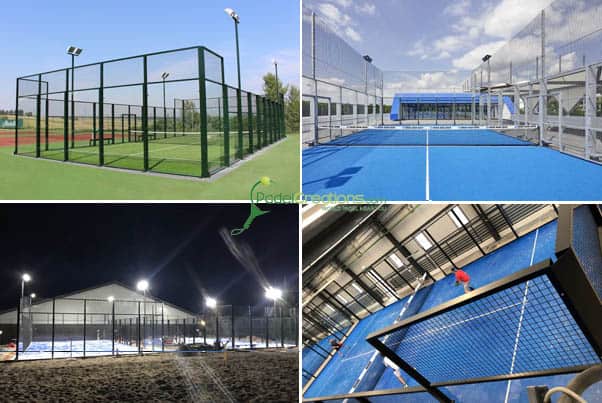 Advantages of Padel as an extension to the club offer:
New target groups: Adults and teenagers increase the number of members
Differentiation of the club in your area.
Better customer retention and fewer dropouts thanks to this sport alternative
New structure for tournaments and teams
Tennis coaches extend the training offer
More club life through an additional related sport
An optimal solution and optimisation for empty areas (20 m x 10 m)
If there is no free area available, a conversion of a tennis court with low attendance into two or three padel courts is also possible
External dimensions of the padel court are smaller than those of the tennis court, more courts and therefore also more players resulting in increased profitability.
We help you giving shape to your padel project and would be happy to support you in your project.
Interested in exploring Padel for your club and you need a quote?