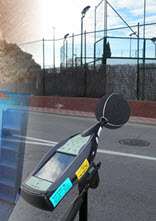 In general, there are noise protection regulations everywhere, where the limit values of the noise emission values are determined. All noise protection regulations serve to protect the public and the neighbourhood from harmful environmental effects caused by noise as well as the precautionary measures against harmful environmental effects caused by noise. Sports facilities are also affected.
The noise emission values are based on the character of the area, as it results from the municipal development plans.
The Padel Sport can exceed the values and reach the 68 – 70 dB line on peak hours (example: facility with 7 Padel Courts with roofing + 1 outdoor Padel Court). Measured across the street and without any sound protection walls. Such scenario would unfortunately not meet noise protection regulations in a pure residential area.
In order to avoid problems with the neighbours sound insulation walls are the solution, because this club is located in a residential area. (see picture on the left)
If you have a project running with us and get this request from your local authorities we are happy to provide you with a noise emission report.
Here are some tips for planning a sports complex
The early consideration of noise in project planning allows the best noise protection with the least cost.
The following points should be noted:
Many problems can already be avoided with an acoustically favorable choice of the location for the sports facility. So it is advisable to choose a sufficient distance from the sports facility to the next noise-sensitive areas.
Lean parts should be oriented as far away as possible from noise-sensitive properties.
Chose a clever position of the Padel Courts and all the associated areas like changing rooms, bistro, etc.
Consider to use the excavation material arising during construction work as a noise protection dam.
The access to the facility and the parking areas are to be located that they affect the local residents as little as possible.
For very critical noise sources, an enclosure of the sports field must be considered. In some cases, even a canopy can have a perceptible effect.
It is advisable to inform local residents as early as possible and even to include them in the planning, if possible.