What is

Padel?
Padel is the fastest growing racket sport in the world. Already very popular in Spain and Latin America, the game is quickly attracting new players around the globe. Padel clubs are opening in the UK, Germany, France, the Middle East, Australia, Canada, and the United States and Padel is being used in tennis clubs, tennis academies, sport and leisure centers, hotels, luxury hotels & resorts, golf clubs, condominiums and Leisure Centers to increase their sport offer. 
Padel is a mix of tennis and squash and is only played in doubles. Is counted according to the rules of tennis, the walls are involved in the game. The padel is approximately a half of a tennis court and is surrounded on all sides by glass and meshed panels. As with the tennis court the Padel Court is divided by a netting in two halves. It is played with tennis balls and special racquets designed for Padel.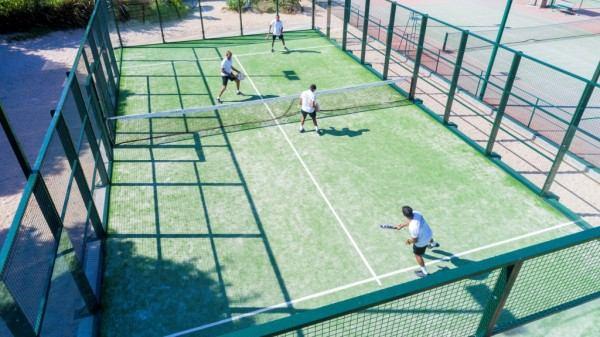 The overall dimensions of the field are lower than that of the tennis. With the reduction of the field and the rise of number of players for the same surface we get an increase from 2-4 players to 8-12 players. The return on the investment is very attractive and Padel is like the cool brother of tennis.
Padel as an additional sport option we see the following advantages:
Additional new group of adults and young people increasing the number of members

Differentiation for your club

Better retention rate of your existing members, as they stay longer. (less dropouts)

New structure for tournaments and teams

Tennis coaches extend the range of training courses

More club life by an additional cognate sport

perfect solution and optimization for your available space (20 x 10 m)(65,6 x 32,8 feet)

If no additional area is available, a conversion of a tennis court in 2 – 3 Paddle courts is quite conceivable. See example
In Spain we have already installed over 400 Padel Courts and have the know-how of quality, reliability and experience. We have installed Padel Courts in UK, Germany, Switzerland, Austria, Moldova, Mauritius, etc.  
Padelcreations.com is pleased to support and help you in this process.
Padel – a fun sport for all ages: